The best surrogacy centre in India, Ekmifertility has been successfully completing families all across the globe from past two decades. Millions of couples worldwide are unable to conceive despite of numerous fertility treatments, hundreds of injections, and various invasive procedures. Surrogacy is a ray of hope for such couples who have tried multiple other treatments and still were unable to conceive. At Ekmifertility, being the best surrogacy centre in Delhi , we understand that a couple opts for surrogacy only when they have already tried every possible treatment known to mankind and still failed to conceive. We treat our patients just like our loved ones holding their hand at every step and guiding and comforting them throughout their journey.
The new Surrogacy Law in India allows only altruistic surrogacy (i,e. any woman who is willing to help you without any financial compensation) for Indian passport holders, for any person of Indian origin (OCI Card holders & NRIs) . Ekmi Fertility, being the best surrogacy centre in Delhi has a large pool of pre screened surrogate mothers who are ready to help you complete your family. We do guaranteed surrogacy programs with unlimited attempts till you bring home your bundle of joy. Our legal support team takes care of all the legalities involved in the process. Call 8448841271 now to take a free legal consultation or to know your eligibility for Surrogacy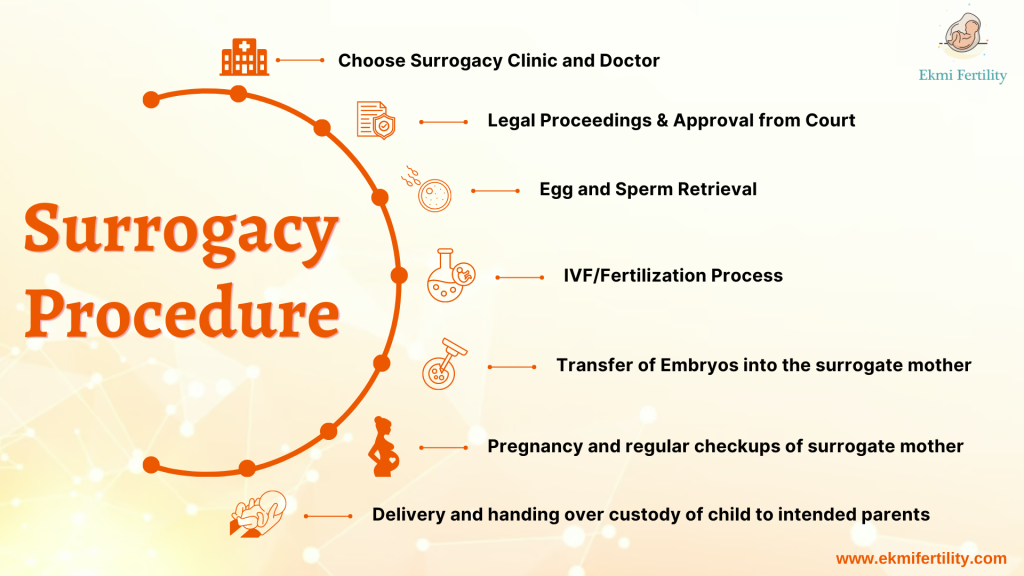 Why Choose Ekmifertility ?
Guaranteed live birth Programs (100% success rate)
State of the art Clinics
Experienced Clinical team
Transparency in financial and clinical aspect
Complete Legal Support till acquisition of Parentage and custody order from court
Complete documentation support till delivery
Birth Certificate is arranged by our team
Most premium egg donor pool from which you can choose your ideal match
Healthiest pre screened surrogate mother pool ready for embryo transfer
Visa assistance and documentation for OCI and NRI couples to ensure smooth exit process of baby.
Surrogacy in Delhi
Delhi has the state of the art laboratories, world renowned specialists, latest and advanced technology, most competitive pricing, well equipped surrogate homes and access to best medical facilities. This makes Delhi the hub for Surrogacy and Ekmi Fertility , the best surrogacy centre in Delhi.
We are covid free
All our clinics being the best surrogacy centre in Delhi, are sanitized and covid free for your protection . To avoid exposure of surrogates, no visitors are allowed inside the surrogate home facilities. To avoid the risk of infection, only 2 couples are allowed in the waiting area at any given time.
Cost of Surrogacy in Delhi
The Cost of surrogacy treatments in Delhi ranges from Rs.4 lakhs to Rs. 16 lakhs depending upon the program you choose. If the intended parents don't have a surrogate mother, we will take care of it as well. Ekmifertility has a huge pool of surrogates who are pre screened and ready to help the intended parents. We share the payment breakup at the commencement of the process with timelines to ensure a smooth treatment journey. To know your exact package, call us on +91-84-4884-1271 .
Lets see why are you spending lakhs of rupees in Surrogacy:
1) Our Guaranteed Surrogacy Package – We give you unlimited attempts until you bring home your bundle of joy. Even if there is a miscarriage in between , we repeat the process for you within the same cost. We offer Guaranteed programs with lowest cost of surrogacy in Delhi.
2) Egg Donor Screening and Compensation– We at Ekmifertility have a very well designed donor acquisition criteria which has parameters such as Age, egg reserve etc. We screen the egg donors according to the preferences given to us by the intended parents. According to the new surrogacy law, the intended parents need to sponsor a medical insurance of 6 months for the egg donor.
3) Ovarian Stimulation of Egg Donor – FSH hormones induce growth of follicles and trans vaginal scans monitor the progress
4) IVF Process- involves fertilization and blastocyst culture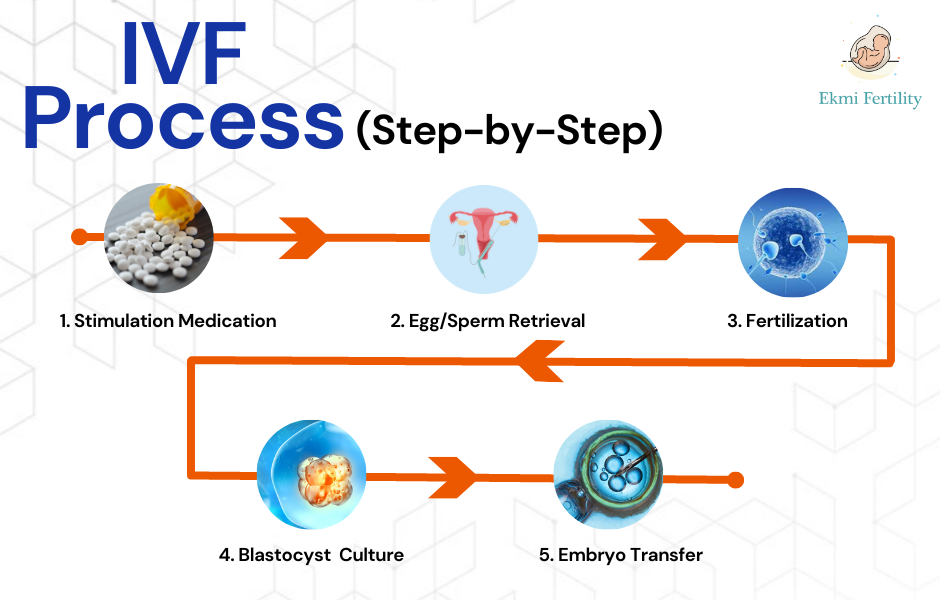 5) Surrogate Mother Screening and Finalization– After medical and psychological assessments the fittest candidate is chosen
6) Embryo Transfer – all the best surrogacy centre in delhi transfer Grade A blastocysts for enhancing the chances of conception.
7) Medical Check-Ups And Care Of The Surrogate Mother
The expenses may vary according to the necessity. Some of the expenses are:
Routine antenatal checkups
Surrogate home charges
Nutritional needs special diet
Additional help or nurse for the surrogate mother
Medications and supplements
Maternity attire
Antenatal care
8) Surrogate Mother's Insurance
According to the new surrogacy law, the intended parents need to sponsor a medical insurance of 3 years for the surrogate mother.
9) Uterine Stimulation of Surrogate mother– Uterine lining is prepared with the help of injections and medicines and monitored with transvaginal scans
10) Surrogacy Agreement & Cost For Legal Formalities
Surrogacy involves a lot of legal work. We here at Ekmi Fertility provide the full legal services needed for surrogacy. You will not have to worry about anything related to legal advice or documentations. Our legal advisors will provide all these services: –
Negotiation of contracts
Making the parties aware about their rights and liabilities
Legal documentation between the surrogate mother and the intended parents.
11) Expenses for Medical procedures and delivery
Egg or sperm donor, and the medical process involved like surgical sperm retrieval etc
Cesarean or normal delivery
Multiple IVF cycle program as we provide guarantee plan
Egg or sperm donor, and the medical process involved
Cesarean or normal delivery
Multiple IVF cycle program as we provide guarantee plan
Why Should You Choose Ekmi Fertility for the Guaranteed Surrogacy in Delhi?
Surrogacy is a little complicated process. We, at Ekmi Fertility, guarantee you the full package of medical consultation and procedures, finding a surrogate mother, routine check-ups, and legal consultation and documentation, under our Guaranteed Surrogacy Program.
​​We believe everyone should have the opportunity to be a parent, so we tailor our surrogate and egg donation programs to fit your needs. As the most successful surrogacy platform with an increased success rate for bringing home a baby, our surrogacy clinics and knowledgeable staff provide the space and guidance you need for a smooth and successful journey.
We're a full-service surrogacy and egg donation centre in Delhi and NCR, which means we have all surrogacy and egg donation services for our patients, including journey coordination, legal and accounting support, and assistance getting you and your baby home. Ekmi Fertility provides world-class services. It is the best surrogate clinic in India, with a high IVF success rate and a low ratio of multiple births. For any further assistance, feel free to call us at +91-8448841271 or email us at info@ekmifertility.com