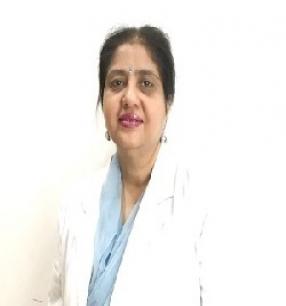 Dr. Sandeep (Sonu) Talwar is one of the leading infertility specialists in the city with more than 20 years of experience in the field of Obstetrics & gynecology. For more than 16years, she has been practicing infertility & IVF. She served for 16 years at a Unit of IVF at Sir GangaRam hospital that has more than 1000 babies to its credit.
Dr. Sandeep Talwar for more than 20 years has performed several procedures like independent IVF procedures as well as advanced Endoscopy. She has been actively involved with the teaching of DNB candidates & training at Fellows in Infertility & Reproductive Medicine. under the National Board of Examinations Dr. Sandeep Talwar had been appointed as an examiner & Inspector for Fellowship in Reproductive Medicine and has also gone as an Inspector for accreditation of hospital for FNB accreditation. After which she joined as the head of the department of IVF & Infertility at the B.L.K.Superspeciality hospital, where she worked for 2 years. Subsequently, she worked for one year at Bournhall Clinic, Gurgaon for one year. At present, she is working as a Senior Consultant, Southend Fertility & IVF Centre, Vasant Vihar, Delhi.
She has successfully treated many patients with IUI, IVF / ICSI/ IMSI, TESA, blastocyst culture, cryopreservation, laparoscopy, hysteroscopy and smoothly running donor and surrogacy programs. Dr. Sandeep Talwar individualizes each couple's treatment plan from the range of options available. She practices evidence-based medicine and keeps abreast with the latest medical advances.
Infertility Treatment and Services
IUI
IVF
Fertility Enhancing Laparoscopic Surgeries
ERA (Endometrial reciptivity array)
Intra Cytoplasmic Sperm Injection (ICSI)
Laser Hatching
Embryo Freezing(Slow Freezing And Vitrification)
Blastocyst Culture
Surrogacy
Management Of Male Factors Infertility
Management Of Female Factors Infertility
PGS(Pre-implantation Genetic Screening)
PGD(Pre-implantation Genetic Diagnosis)
Oocyte Freezing
Specializations
Infertility
Obstetrics
Gynaecology
Education
MBBS – Rehman Medical College – 1986
DNB – Obstetrics & Gynecology – Vardhman Mahavir Medical College & Safdarjung Hospital
Awards and Recognition
Appreciation Award By FOGSI For Two Consecutive Years 2003 – 2004
Academic Excellence Award By The Delhi Medical Association In – 2013
FOGSI -Infertility Training As A Trainer Since – 2005
Inspector for FNB Accreditation of Hospitals
Membership
FOGSI( Federation if Obstreticians and Gynaecologists India)
AOGD (Ass. Of Obstetricians & Gynecologists Delhi)I
SAAR ( Indian Society of Assisisted Reprodutive techniques)
Executive member of Indian Fertility Society
FAQs
What fertility clinic has the highest success rate?
CDC Ranks many clinics with the Highest IVF Success Rates. However the clinics registered with Ekmi Fertility are one of the best IVF clinics in India with the best fertility specialists.
What percentage of fertilized eggs make it to Day 5?
It must be remembered that even if all of your embryos are perfect on day 3, on average only 40-50% of them will become blastocyst on day 5.
What's the best fertility pills to get pregnant?
Clomiphene (Clomid): This drug can trigger ovulation. Many doctors recommend it as the first treatment option for a woman with ovulation problems. Letrozole (Femara): Like clomiphene, letrozole can trigger ovulation. Among women with PCOS, especially those with obesity, letrozole may work better.