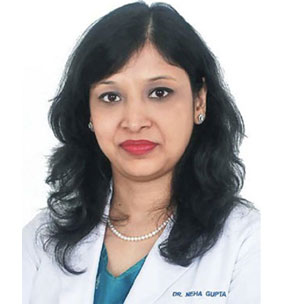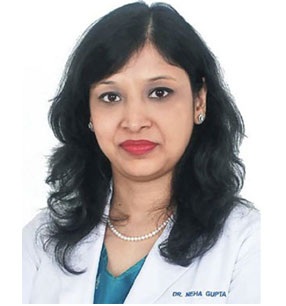 Dr Neha Gupta is a distinguished fertility doctor with over 12 years of experience. She is an infertility specialist who believes in adding happiness to the lives of couples who are missing out on the joys of parenthood.
Surrogacy Doctor/Specialist
Equipped with her MD (Obs & Gynae) from CCS University, Meerut, training in Reproductive Medicine from Maulana Azad Medical College, New Delhi and Diploma in Advanced Reproductive Medicine & Embryology from International School of Medicine Kiel – Goettingen – Munich, Germany, Dr. Gupta happens to be one of the most sought after specialists in her field. She has also served as Sr. Consultant Fertility Specialist in Iswarya Hospital along with being trained in laparoscopic surgery under Dr. Joseph Kurian in Chennai.
She has a Special Interest in Poor Responders in IVF, Repeated Implantation failures in IVF, Repeated Pregnancy Losses, High-Risk Pregnancies, Laparoscopic Surgeries, IVF with PGS, PCOD/PCOS Management, and Surrogacy.
FAQs
What Kind of Doctor Does Surrogacy?
The doctors with specialization in Obs & Gynae are the one's who do surrogacy. Dr Neha Singh is one such doctor, who can help you in your surrogacy journey.
How Much Does Surrogate IVF Cost?
A surrogate IVF cost is based according to the type of surrogacy opted for, if it's donor egg, embryo, or sperm. Also based on the patient's infertility-related criticalities.
What is a surrogacy Clinic?
A surrogacy clinic is one that performs the important medical processes involved in surrogacy. Ekmi fertility is one such surrogacy clinic that helps you with the best doctors along with a guaranteed surrogacy package!
Specialization
Educational Qualification
M.B.B.S. (2005)
Dr B. R. Ambedkar Medical College, Bengaluru Rajiv Gandhi University of Health Sciences, Karnataka

M.D. (Obstetrics and Gynaecology) (2010)
Ch. Charan Singh University, Meerut

Diploma in Assisted Reproductive Technology (ART) (2017)
Keil University, Germany
Awards and Honours
Honored with IVF & Gynecology Award from Star News by Ms. Chitrangada (Bollywood Actress) in May 2019
Participated as FACULTY in FERTIVISION 2017 (13th Annual Conference of India Fertility Society) held at New Delhi from 8th to 10th December 2017.
Participated as FACULTY in FERTIVISION 2019 (15th Annual Conference of India Fertility Society) held at New Delhi from 06th to 08th December 2017.
Participated as faculty in INTERNATIONAL FEDERATION OF FERTILITY SOCIETIES Conference in 2016.
Completed the course on Increased Risk of Preterm Delivery and Pre-eclampsia in Patient with Polycystic Ovary Syndrome and Hyperandrogenemia in January 2019 organized by Wiley Professional Academy.
Publications
Dr C.S. Dawn, Gold Medal for Best Paper Presentation in UPCON 2009, Varanasi.
2nd Prize in Poster Category for 'HPV Vaccines and its controversies' at UPCON 2009, Varanasi.
Presented paper titled 'Effect of Premature Luteinization in GnRH Antagonist versus GnRH Agonist IVF cycles' in 34th Annual Conference of Association of Obstetricians & Gynecologists (AOGD-2012) Delhi
Participated in 19th UPCON 2007 at AMU, Aligarh.
Participated in 51st AICOG 2008, New Delhi.
Participated in 52nd AICOG 2009, Jaipur.
Participated in International Gynecology Cancer Congress 2008, New Delhi.